Unfortunately, for every four friends I have, one has lost their mother. I remember feeling like loss came with age. Technically, we're too young to be losing parents… let alone mommies. Amongst the moms who have passed, 25% of them had estranged relationships with their children. I remember arguing my friends zownnn with my biased and "dads are the opps" vigor about moms being worthy of absolute love despite their traumatic shortcomings—because they are our spiritual and biological root and there's no running from that connectivity. My argument resonated with some of them and others were like,
"mmk sis".
Regardless of the worldly beef, resentment and blind forgiveness they battled with in real time, the moment their mothers left this earth, I observed their souls crumble. They visibly lost a piece of themselves; and more important than knowing I was right, I was floored that even my own love for my mother couldn't help me comprehend how naturally they reverted to that small child, wanting closeness, love and acceptance just once more. I'm shook just thinking about it.
So while they mourned theirs, I clutched mine a little closer. I loved on her and prayed for her well-being a little harder; and on May 3, 2019… the day before my 30th birthday party… my heart and soul suffered a heart attack. She was rushed into surgery and between the minute I was informed and the moment she was released… I couldn't breath. I couldn't see. I couldn't hear. I think I died.

Honestly, if I didn't have Marcus to pray me to calmness…..
So in that moment, the possibility of the loss of my Madonna felt too close. I literally do not have the words to extend to my friends, who have felt that shortness of breath, that halt in existence, that emptiness that is not having your mom on earth. I've compared their losses to my mom's experience and it is humanly impossible for me to imagine the strength it takes to simply inhale after your mom has left you— regardless of the number of times she may have abandoned you in life… there is no abandonment that measured to the impact of her death; genetic loneliness.

As we get older, despite age not meaning shit, these life shaking circumstances become more real. I spent a bulk of 2019 (shit… this year too) being super protective of my mother. Worrying about her health and checking her breathing if she blinks too long; if she takes too long to reply to a text…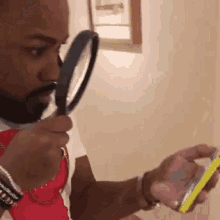 I've always been on her body but now…. Bruh, I'm tired.
In retrospect, that entire experience was traumatic. I could rant on and on about all the fears and insecurities her heart attack triggered in me. Until now, I don't think I've deeply processed all of this because I wanted to just love on her, be grateful I still have her and move on from it. But mommy, you scared me girl.
The reality is that trauma shows up differently for everyone and in every situation. The way you love, the way you protect, the way you worry, the way you forgive, the way you treat others, the way you treat yourself. I have no idea how this situation affected the way I wake up to the world everyday. But anyone who thought it happened, we got through it, and I'm back to normal is tripping.
To my homies, greeting life daily while motherless/grandmotherless.. I'm sorry, I love you and I admire you.
Jah.
If you're managing or struggling with the grief of a relative or friend please consider the Crisis Text Line for emotional support at your finger tips!